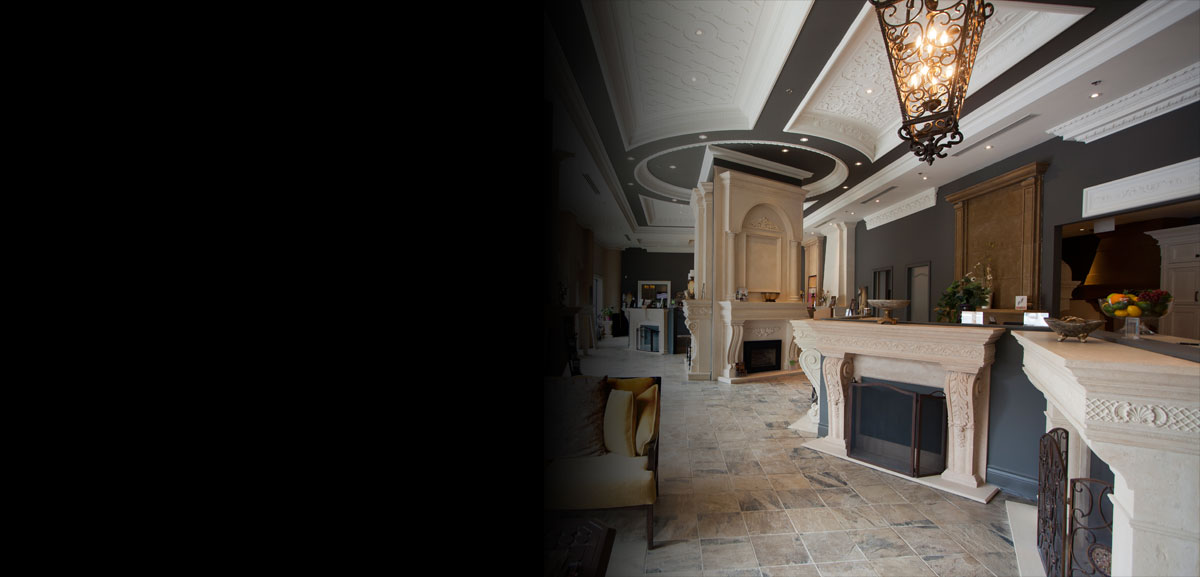 Inspiration You Can Experience
Once you've begun to dream about a room, images aren't enough. Enter Omega Studios and Galleries. Our expertly curated showrooms will help complete your vision and leave you brimming with new ideas.
Explore a full range of trend-setting Omega designs. Discover why design professionals and inspired homeowners alike trust our professional staff to help bring their inspirations to life.
visit our showrooms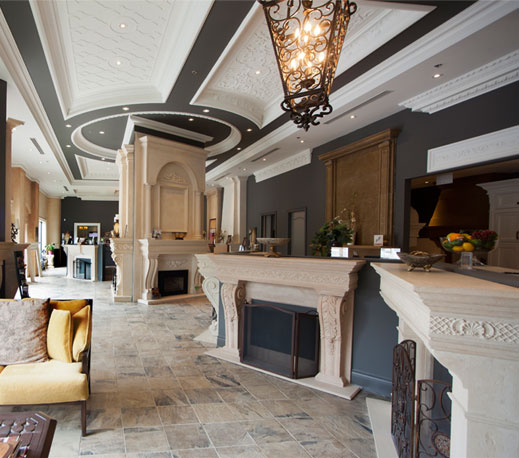 For over, 30 years Omega Mantels & Mouldings Ltd. has been one of the industries leading destinations for exclusive custom cast stone and plaster products.
As fine manufactures of custom cast stone fireplace mantels, kitchen hoods, columns, panels, fire pit tables, ornamental plaster moulding, customized feature mouldings, and 3D wall panels Omega is confident to have products to suit every cast stone and plaster need. Offering custom solutions for both indoor and outdoor, Omega has achieved and maintained its success by the ability to accommodate virtually all consumer demands and fulfilling all specialized requirements. Along with the standard line of cast stone mantels and kitchen hoods, Omega works closely with both residential and commercial industries, architects and designers alike , providing product solutions ranging from classical to contemporary for unique customized products.
Proudly Canadian based, Omega Mantels & Mouldings distributes via many US dealers, distributors as well as customer direct , throughout North America. Omega Mantels & Mouldings distinctive accomplishments and unique custom design products have been proudly featured in magazines such as Florida Designs, Veranda, Architecture and Designs, and various others. Omega Mantels & Mouldings primary showroom and manufacturing plant is located in Woodbridge, just north of Toronto. Staffed with over 30 skilled artisans and dedicated experienced employees, who will collaborate with you from conception to completion for a truly customized piece. Omega understands that clients navigate through various budgets and we strive to successfully fulfill each clients vision with our extensive collections of product choices, always maintaining our commitment to quality, durability and to complete customer satisfaction.
We invite you to drop by and visit one of our impressive showrooms located in Oakville and Woodbridge. We proudly showcase a combination of over 60 exquisite displays of custom plaster and cast stone products, including 35 full sized displays of exquisite cast stone fireplace mantels, over mantels and cast stone kitchen hoods, which are featured at our Woodbridge location. Our Oakville location is Omegas designated design and decor centre, displaying over 18 cast stone fireplace mantels, over mantels and cast stone kitchen hoods, in a collaborative décor centre setting with Selba Kitchens and Concept flooring. Explore the extensive collections of cabinetry, flooring, custom fireplace mantels, over mantels, kitchen hoods, columns, panels, wall coverings, fire pit tables, and mouldings, all manufactured in multitude of finishes and colors, completely customized for you.
Omega Mantels & Moulding offers distinctive collections of exclusively designed and manufactured products for both indoor and outdoor solutions, promising to add architectural detail, quality and durability for all your cast stone and plaster needs.
Delivering exceptional quality products with an uncompromising commitment to our customers while creating luxury that resonates throughout the industry ..... with Omega Mantels & Mouldings Ltd.
Our vision
Omega Mantels & Mouldings Ltd. inspires a creative journey and passion for redefining new boundaries and imagination by creating and manufacturing custom pieces of architectural distinction.
Omega's dedicated and dynamic team is passionately driven to establish and maintain fundamentally lasting relationships with our clients. In order to provide unsurpassed service and deliver exceptional quality products, Omega continually strives to pursue the newest innovations, and adopting the most recent, effective design and manufacturing methods. At Omega, we not only aspire to bring you the latest and most current design trends of today, but simultaneously venture into what could potentially be coming next... tomorrow... in the world of luxury stone cast products.
Where a moment of creative inspiration , is celebrated by time honored luxury and unsurpassed quality .... with Omega Mantels & Mouldings.
Mission statement
Omega Mantels & Mouldings Ltd. has been an industry leader in manufacturing and distributing quality stone cast products throughout North America for over 30 years. At Omega, we appreciate the fundamental diversity in product requirements between residential, commercial and industrial and will diligently collaborate to provide superior stone cast and moulding solutions. Our goal is to provide outstanding architecturally defined, superior custom crafted products manufactured and delivered without compromise in quality, service or integrity.
Omegas' unparalleled principles, passion and vision are what drives our unwavering commitment to our clients. By providing innovative solutions and value, our continued success and growth is dependent on strengthening the relationships with our clients, motivating us to push beyond expectations to deliver unsurpassed product excellence.
Inspiring an affinity to deliver luxurious, exceptional architectural stone cast products.